Today's issue of TL NewsWire covers cloud billing and practice management software designed to automate your practice through tags, document assembly, process automation workflows, and third-party integrations (see article below). In addition, you'll find links to the previous 11 TL NewsWire features, including our coverage of backup software that backs up operating systems, files, databases such as Outlook, and cloud storage services such as Dropbox, and which includes ShadowProtect for faster restores, OCR software that automatically finds unsearchable documents in your document management system, Windows PCs, and cloud storage services, and makes them searchable, and much more. Don't miss the next issue.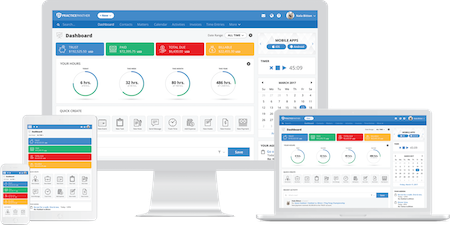 Because of their internal processes, no two law firms are alike. These processes become the foundation of the firm's culture. New employees experience culture shock until they learn these processes. Likewise, your billing and practice management system will never fit in unless it too can acclimate to your firm's unique set of systems.
PracticePanther … in One Sentence

PracticePanther is a cloud-based billing and practice management system that emphasizes customization and which integrates with dozens of third-party applications for additional flexibility.
The Killer Feature

"Tags are a key PracticePanther differentiator," says Senior Account Executive Sam Alkoubey as he begins my demo. He's referring to the ability to append descriptors to any data in PracticePanther — contacts, events, clients, matters, time entries, prebills, invoices, etc. You can restrict tag creation to administrators to foster consistency and prevent near-duplicates.
Tags enable you to create applications within PracticePanther without any programming skills. For example, you can create a customer relationship management system by creating a set of tags to track contacts as they move from prospect to client. You could then email all prospects who complete an initial consultation within the past month but have not yet signed an engagement letter.
PracticePanther also offers custom fields, which work in conjunction with tags. You can group a set of related custom fields such as for a practice area intake form and associate this group with a tag. Then you could generate a report comparing your firm's practice areas across a range of metrics.
Other Notable Features

CEO David Bitton tells me that PracticePanther has surpassed older rivals in terms of overall functionality. "With contact and matter management, automated time tracking and invoice generation, document and workflow generation, email and calendar sync, and countless more sophisticated features, we are proud to offer the highest-rated and most intuitive law practice management software that is used in over 170 countries worldwide," says Bitton.
PracticePanther has a main dashboard as well as dashboards for each major function. From the main dashboard, you can access each of these functions, including an internal messaging system. Additionally, this dashboard lists your firm's overall financials if you have access rights, your billable time and targets, and recent activity in your matters. To the right are active timers and the ability to start new ones.
The billing system accommodates all business models — hourly, flat, contingency, and even subscription (recurring payments). You can set rates by timekeeper and matter, use UTBMS task codes, customize invoice templates with your logo and terms, enter multiple time entries simultaneously, edit prebills on the fly, receive a notification when clients view an invoice, and accept payment by e-check and credit card via LawPay. PracticePanther includes trust accounting and check printing, and also offers QuickBooks integration for bookkeeping.
Other features include a list view for the calendar and color-coded events, integration with Box and Dropbox for document management, document assembly that takes advantage of custom fields, automated workflows that consist of dependent tasks triggered by preceding tasks or date calculations, dozens of reports ranging from incomplete tasks to origination of matters, and a client portal with support for web forms.
What Else Should You Know?

PracticePanther runs in all major web browsers. You can also use the free iOS and Android apps. Choose from three plans — Solo, Essential, or Business — that cost $39, $59, or $79 per month respectively with an annual commitment. Learn more about PracticePanther.
How to Receive TL NewsWire
So many products, so little time. In each issue of TL NewsWire, you'll learn about five new products for the legal profession. Pressed for time? The newsletter's innovative articles enable lawyers and law office administrators to quickly understand the function of a product, and zero in on its most important features. The TL NewsWire newsletter is free so don't miss the next issue. Please subscribe now.