Today's issue of TL NewsWire covers cloud real estate closing document automation software for CD and HUD transactions that handles all calculations and tax filings (see article below). In addition, you'll find links to the previous 11 TL NewsWire features, including our coverage of document comparison software that adds legal-specific functionality to Microsoft Word's Track Changes and which integrates with popular document management systems, a Mac document management system that combines the familiarity of the Finder with legal-specific tools such as automated email capture, and much more. Don't miss the next issue.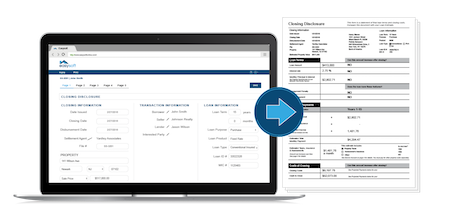 Real estate transactions involve creating the same set of documents repeatedly — perhaps more so than any other practice area. Additionally, it's now a highly regulated market so it's more important than ever to produce error-free closing documents. These are good reasons to automate your real estate deals not to mention saving money and remaining competitive in a crowded market.
Easysoft Online … in One Sentence

Launched recently, Easysoft Online (Easysoft) is cloud software for automating Closing Disclosure (CD) and HUD real estate transactions, including tax filings.
The Killer Feature

You can start using Easysoft in seconds with any web browser. Create an account, designate a settlement agent, and enter your InfoTrack credentials. The software includes unlimited CD and HUD transactions. It complies with all regulations (including RESPA and TRID), calculates taxes, and files 1099 tax documents via InfoTrack.
Your clients will appreciate always knowing the cash to close and closing cost no matter how often the deal terms change. You'll appreciate not having to hire a title agent, which will save you approximately $500 per transaction. Easysoft costs $69 per month so after two transactions it will have more than paid for itself.
"Easysoft allows real estate attorneys to simplify their closings by providing an easy-to-use solution," says Easysoft's Managing Director Jeanette Knight. "With Easysoft, you save time by completing the closing disclosure in a matter of minutes rather than days. And the wonderful thing about Easysoft is you can access it from anywhere at anytime with no installation required."
Other Notable Features

Easysoft's dashboard lists all your deals, including file number, type (CD or HUD), borrower, seller, and status. Easysoft walks you through several screens that mostly consist of forms. You never need to enter information twice as Easysoft auto-populates fields that require the same data. Also, Easysoft performs all calculations so you won't need a spreadsheet.
For CD transactions, Easysoft covers loan terms and costs, taxes and any applicable prorations for city, county, assessment, school, and sewer, prepaid items such as insurance, interest, property taxes, and as intimated above all the inputs that comprise cash to close. Easysoft also walks you through loan disclosures, and adjustable payment and interest tables. A ledger lists all deposits and payments related to the deal and includes check printing if needed.
You can choose from several options for the signature pages, including a Consumer's Confirm Receipt Signature, Seller's Signature Addendum, and Interested Party's Signature Addendum. You can print two versions of the CD — the standard version for the seller that becomes the public record, and a more verbose version for the buyer with all the details.
HUD deals such as cash closings and reverse mortgages offer a similar process without the lender components and generates all the requisite documents, including a Good Faith Estimate.
What Else Should You Know?

Knight tells us that Easysoft reduces the amount of time required to create deal documents by up to 70%. Devan Ingram, a real estate closing assistant at Inzer, Haney, McWhorter & Haney in Gadsden, Alabama, agrees. "My experience with the new online version of Easysoft has been very positive," says Ingram. "Easysoft allows us to run a smarter and faster closing process using automated documents." Learn more about Easysoft Online.
How to Receive TL NewsWire
So many products, so little time. In each issue of TL NewsWire, you'll learn about five new products for the legal profession. Pressed for time? The newsletter's innovative articles enable lawyers and law office administrators to quickly understand the function of a product, and zero in on its most important features. The TL NewsWire newsletter is free so don't miss the next issue. Please subscribe now.