Today's issue of TechnoLawyer NewsWire covers a client portal you can add to your Web site (see article below), a new BlackBerry smartphone, a line of iPad and MacBook sleeves with handles, an online application for managing discovery in federal cases, and a service that can speed up your law firm's Web site. Don't miss the next issue.
Make Working With Your Firm More Convenient for Clients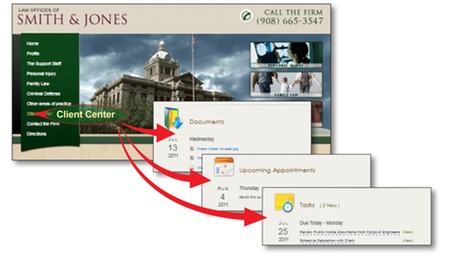 We've covered many Web-based applications in this newsletter, but what about your firm's Web site? Is it still just a glorified brochure, or have you "appified" it to better serve your clients? Not too long ago, adding client collaboration tools to your Web site would have cost tens of thousands of dollars or more, which explains why most law firms — especially small law firms — don't offer "client portals." But the competitive advantage a client portal provides is undeniable. Look no further than your online bank account. Plenty of inexpensive online collaboration services exist, but they don't reside on your site, and are typically operated by companies without an appreciation for the attorney-client privilege.
LexisNexis Client Center … in One Sentence
LexisNexis Client Center is a hosted portal that you can add to your existing Web site through which you can securely collaborate with your clients.
The Killer Feature
Most lawyers share documents and information with their clients via email. Although a growing number of email applications offer threaded messaging, this technology is no match for the many messages with different subjects that accrue over the lifetime of a matter. If your clients don't diligently file every email message and attachment, they will become frustrated when they cannot find a message or document quickly or at all.
LexisNexis Client Center enables you to provide your clients with a single Web page on which they can access all their matters, including the documents you share with them. In addition to providing your clients with a convenient location for their case file, it also reinforces your brand and relationship every time they visit.
Other Notable Features
LexisNexis Client Center goes beyond records management. It also features collaboration tools. For example, you can assign tasks to your clients such as reviewing a brief or contract. Your client can download a document, mark it up, and upload a new version. Thanks to an integrated calendar, you can also assign tasks with dates (e.g., Show up for your deposition).
With LexisNexis Client Center, you can more securely communicate with clients, including sending your bills. If you send an errant message, you can retract it. Clients can receive an email alert when you send them a document, message, task, etc. to let them know they should login. LexisNexis Client Center provides an audit trail, enabling you to track everything you share.
What Else Should You Know?
LexisNexis Client Center is included free of charge with a LexisNexis-created site for your firm, including the Site Essentials, Site Edge, and Site Exclusives packages. You also receive a free subscription for Firm Manager, LexisNexis' online practice management system. Learn more about LexisNexis Client Center.
How to Receive TechnoLawyer NewsWire
So many products, so little time. In each issue of TechnoLawyer NewsWire, you'll learn about five new products for the legal profession. Pressed for time? The "In One Sentence" section describes each product in one sentence, and the "Killer Feature" section describes each product's most compelling feature. The TechnoLawyer NewsWire newsletter is free so don't miss the next issue. Please subscribe now.